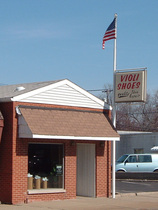 Violi Shoes was founded by Frank Violi in 1934.Frank was trained in shoe making in Italy and came to the United States in late 1933.After working part time in a shoe repair shop in South Bend he purchased his own equipment and opened a shop in neighboring Mishawaka. Younger brother Sam came to the United States a few years later and joined the business. Both Frank and Sam became United states citizens and served their new country in the army during World War II. The Violi brothers built a reputation for quality shoe repair and selling the best American made work shoes in Northern Indiana.
The Violi brothers decided to retire in 1990, and the shop was sold to Brien Hall in April of that year. Brien owned a shoe store in nearby Nappanee. The store in Nappanee was closed in 1992 and the remaining inventory was moved to Violi Shoes. New repair equipment was purchased to make Violi Shoes the most efficient and modern shop in the area. Violi Shoes is still known for being the best shoe repair shop in the area, and we still sell the most comfortable and best built American made work shoes. We also sell American made men's dress shoes and casual and walking shoes for men and women. We still can measure your feet and help you select shoes that are right for you. No self service here!
The owner, Brien Hall is a 1976 graduate of the Pedorithic Management of the Foot program at Ball State University in Muncie IN and a member of the National Shoe Retailers Association. Violi Shoes is also a member of the National Federation of Independent Business.