Violi Shoes Est 1934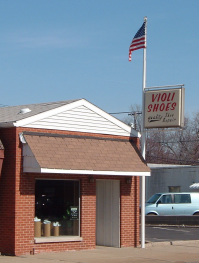 Violi Shoes sells quality American made work boots for men, walking and casual shoes for men and women.
Expert shoe repair and orthopedic service


Starting January 8, 2018 all repair work must be paid in advance.
Violi Shoes
Store Hours:
118 E Mishawaka Ave Mon - Fri 9:00 to 5:00
Mishawaka IN 46545 Sat 9:00 to 1:00
574-255-2007
I am no longer able to do zipper replacement or dye work because of
the amount of time required for these jobs.
Winter sale - All women's shoes on sale. Select men's shoes on sale.
In stock only
For Sale: maple chairs, metal shoe racks, storage bins, misc. repair tools, Auto soler nailer, and 1947 NCR cash register.
---